Inkalab-o-Azadi March 475 Injured (Read in Urdu/English/Roman/Images)
NEWS IN URDU: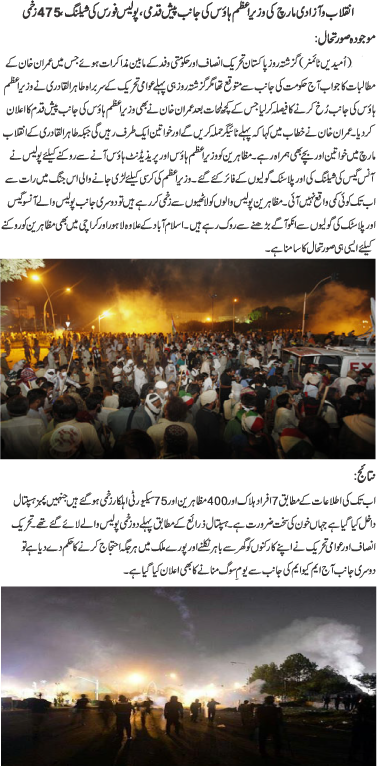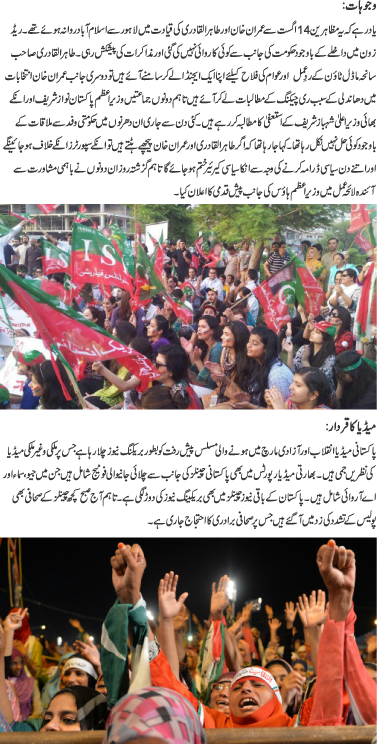 NEWS IN ENGLISH:
INKALABO-O-AZADI MARCH 475 INJURED:
Current Situation: (Umeedain Times) Yesterday Imran Khan provided the list of his final demands to government and reply was likely to come today but yesterday evening Chairman of Pakistan Awami Tehrik took an initiative and announce to move towards PM house and after few minutes Imran Khan also announced to go towards PM house. During the address of Imran Khan he said tigers will attack and women will join later. However in PAT Protesters women and children were also with them. When The Protester tried to enter in PM house and President House Area then security forces started tear gas shelling and used plastic bullets to stop them. Like Islamabad there is same situation in Lahore and Karachi with protesters.
Results: According to sources 7 people are killed and 475 injured out them 400 are protesters and 75 security officers. All injured are admitted in PIMS Hospital Islamabad. According to hospital sources first to injured were police officers brought to hospital for first aid. PTI and PAT ordered their workers to come out from homes and protest in all over the world. On the other hand leader of MQM announced to celebrate BLACK DAY today.
Reasons: These protester against government traveled from Lahore to Islamabad under the leadership of Imran Khan and Tahirul Qadri on 14th of August. Government did not took any step against them while entering in RED ZONE and always offer to peaceful talk. PAT chairman Tahir-ul-Qadri has his own agenda for the well being of people of Pakistan as well as Model Town incident is also one of the reason. PTI chairman Imran Khan wan justice against rigging in election 2013. Both party leaders demanding resignation from PM Nawaz Sharif and CM Shabaz Sharif. Some media debates showed that If imran Khan and TahirulQadri move back then they will lose their political career that's why they both mutual decided to move towards PM house.
Role of Media:Pakistani Media is contineously covering Inakalab and Azadi March with breaking news which is under observation of International Media. Indian media channels also played fotage taken from Geo, Samma and ARY News. However today some news channel reporters and cameramen also injured by police attack.
NEWS IN ROMAN:
Guzista roz Pakistan Tehrik e Insaf or Hakomti wafd ky mabain muzakrat hoey jis main imran khan ky mutalbat ka jawab aaj hakomat ki janbi sy mutwaky tha mager guzishta roz he pehly awami tehrik k sarbarah tahirulqadri ny wazir-e-azam house ki janib rukh krny ka faisla kia jis k kuch lamhat bad imran khan ny bhi wazir-e-azam house ki janib pesh kadmi ka elan kr diya. Imran khan ny khitab men kaha k pehly tigers hamla kren gy aor khawateen aik taraf rahen gi. jabk tahirulqadri ky inkalab march main kahwateen or bachy bhi shamil thy. Muzahireen ko PM house or President house any sy rokny k leye police ny aanso gas ki shelling of plastic golian fire ken. PM ki kursi k leye lari jany wali is jang men rat sy ab tk koi kami nhi aae. muzahireen police walo ko lathion sy zakhmi kr rahy hten to dosri janbi police waly aansoo gas or plastic golion sy unhen agy barhny sy rok rahy hen. Islamabad k elawa Lahore or Karachi men bhi muzahereen ko same situation ka samna hy. Ab tak ki itlat k mutabik 7 afrad halak or 475 afrad zakhmi hoey hen jin men 75 security ahlkar or 400 muzaherin hen jinhen PIMS hospital men admit kr leya gaya hy jana khon ki sakht zarorat hy. Hospital zaraye k mutabik pehly do zakhmi police waly laye gye thy. Tehrik-e-Insaf or awami tehrik ny apny karkuno ko ghr sy baher nikalny or pory mulk men ahtjaj krny ka hukum diya hy to dosri janib MQM k rehnuma Altaf Hussain ny aaj mulk bher men Black Day or youm-e-sog manany ka elan kia hy. Yad rahy k ye muzahereen 14 August sy imran khan or tahirulqadri ki qayadat men lahore sy islamabad rawana hoey thy. Red zone men dakhly k bawajod hakomat ki janib sy koi karwai nahi ki gae or muzakrat ki paishkash rahi. Tahirulqadri sahb Model Town k rad-e-amal aor awam ki falah ky leye apna ajenda ly kr samny aye hen to dosri janib imran khan intikhabat men dhandli per insaf ka mutalba ly kr aye hen ta ham dono jamaten wazir-e-azam nawaz sharif or un k bhai wzir-e-ala punjab shabaz sharif ka astifa demand kr rahy hen. kaha ja raha tha k ager dono apna ahtjaj khatam krty hen to unka political career bhi tabah ho sakta hy isi waja sy dono ny bahmi mushawarat sy PM house jany ka elan kr deya. Pakistani Media inkalab o azadi march men hony wali musalsal paish raft ko bator breaking news chala raha hy jis per mulki or ghair mulki media ki nazren jami hen. bharti media reports men bhi pakistani channels ki janib sy chalai jany wali fotage shamil hen jin men GEO, Samma or ARY shamil hen. Pakistan k baki news channels men bhi breaking news ki dor lagi hy. aaj kuch channels k sahafi bhi police k tashadud ki zad men aa gye jis per sahafi bradri bhi ahtijaj kr rahi hy.
NEWS IN IMAGES: