Addressing Senate, Chinese PM says integrity and sovereignty of Pakistan is dear to his country.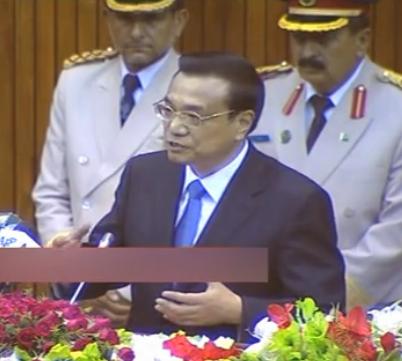 Addressing the Senate in Islamabad on Thursday' Li KeQiang appreciated Pakistan s role for bringing peace and stability not only in the region but also in the world.
He said that China will continue to support Pakistan and promote bilateral relations in all fields.
He said Pakistan is a great country and a time tested friend of China' and expressed his confidence that deep rooted relations between the two countries will be further strengthened in the time to come.
The Chinese PM stressed the need for expanding cooperation in various fields between the two countries and giving a boost to the economic and trade ties.
He said relations between the two countries have flourished regardless of any change at the international level and both the countries have similar views on almost all regional and international issues.
Li said Pakistan is an important player in Asian and international affairs which has always persuaded the policy of dialogue to resolve the issues.
He said hearts of both Pakistanis and Chinese people beat together and their destiny is also same. He said friendship between the two countries is moving forward and being all weather friends we want to open new chapter of friendship and cooperation with Pakistan. He said Chinese people salute hardworking and courageous Pakistani nation.
He hoped that the journey of socio-economic development in Pakistan will continue and China will fully support Pakistan to achieve the goal of socio-economic development.
The Chinese Premier said integrity' independence and sovereignty of Pakistan is very dear to his country and it will continue supporting Pakistan despite any change at the international scenario.
He emphasised the need to take Sino-Pak relations on new heights keeping in view the rapidly growing changes at international level.
He stressed the need for adopting a positive approach for ensuring development of South Asia. He said China is also ready to upgrade Karrakuram Highway to expand economic ties with Pakistan. He said both the countries will have to give new boost to free trade.
The Chinese PM said his will continue its efforts to promote Chinese language in Pakistan and will send 1000 teachers to teach its languages to Pakistani students. he said his country will also extend scholarships to Pakistani students for higher studies in China.
Earlier in his welcome address' Chairman Senate Nayyer Hussain Bukhari applauded China for extending support for protection of Pakistan s sovereignty and independence. He said friendship with China is major cornerstone of our foreign policy. He emphasized the need for enhancing parliamentary cooperation between the two countries to bring closer to the peoples of both countries.
Senator Aitzaz Ahsan expressed gratitude to the Chinese PM for addressing the Senate and hoped his visit to Pakistan will give new impetus to the relations between the two countries. He termed the visit of the Chinese PM as very important on the occasion of transition of power to the new democratic government.