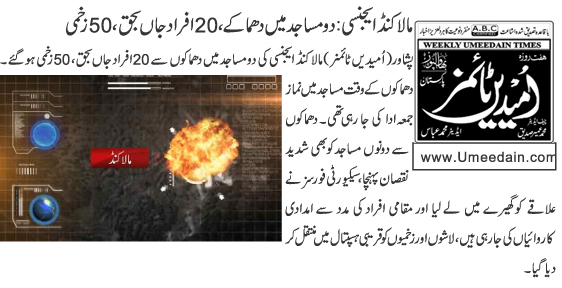 PESHAWAR (Umeedain Times/Agencies) – Bombs exploded outside two mosques in a village in northwestern Pakistan on Friday, killing at least 20 people.
The blasts at the two Sunni Muslim mosques also wounded 45 people, said tribal police officer Badshah Rehman.
Both of the mosques were badly damaged, and the roof of one of them collapsed. The mosques were located in Baz Darrah village in the Malakand district of Khyber Pakhtunkhwa province, Rehman said.
Shahid Ali, who was in the first mosque that was attacked, said the explosion came just as worshippers were starting Friday prayers.
"I rushed out with others and saw several people bleeding and crying," Ali told The Associated Press by telephone.
"There was dust and smoke around."
Ali rushed to the second mosque after it was attacked and saw that its roof had caved in and it was on fire.
"Many people are buried under the rubble," he said.
Rescue workers were trying to retrieve the dead and wounded from the debris, Rehman said.
No one has claimed responsibility for the blasts, but suspicion will likely fall on the Pakistani Taliban.